Maintaining order and cleanliness in the office is key to having a suitable work environment and having the desired products in the company. You must wonder how order and cleanliness in the office will help you improve the performance of your work team and have a good work environment.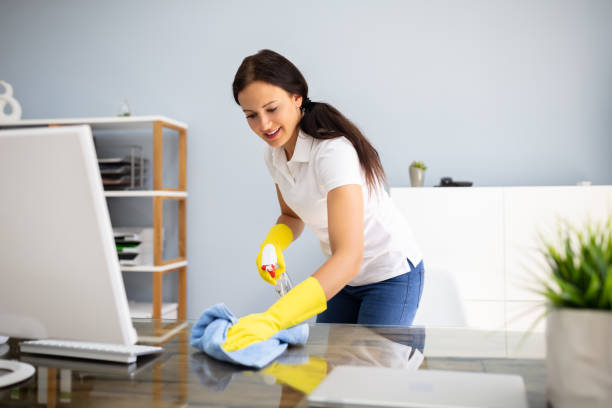 We, SCS Cleaning Solution, are going to clarify this doubt and we will tell you other five advantages that will lead your business to have a clean office.
The advantages of achieving order and cleanliness in the workplace
Maintaining order and cleanliness in your office will ensure that you and your employees have the ideal work environment. For this reason, with professional office cleaning you can enjoy the following advantages: 
You will be more productive with a clean office
Imagine working in an office where disorder reigns. Impossible to carry out a task quickly right? Therefore, maintaining order and cleanliness in the office is one of the first things you should do if you want to improve the productivity of your employees.
By providing them with a workplace in which they feel comfortable, they will increase their work performance. In addition, the productivity of the workers will increase since having order and cleanliness in the office helps to solve different problems such as absenteeism or work-related illnesses.
Having order and cleanliness in the office reduces wasted time
Having a neat and clean office will help your employees make better use of their time. This is because when they need a document or tool to work, there will be greater precision and they will not spend a lot of time searching.
An individual might spend five minutes daily looking for specific material needed for his task. Broadly speaking, it does not sound like a big waste of time, however, these five minutes every day, per month, represent an hour and a half of work.
Keep in mind that if the work area is very messy, it can take even over five minutes to find the material for your day-to-day. For this reason, it is important that you allocate spaces for each tool and document that your team may need. In addition, you must teach your employees to respect the order of the work material.
Increase safety with order and cleanliness
Order and clean offices are part of the occupational risk prevention strategies in offices.  You may wonder what relationship order and cleanliness have in the office with accidents at work.
The relationship between these issues is very simple. The main cause of accidents at work in all companies is slips, trips, and falls. 
We know it is very difficult to ensure that the office remains impeccable all the time in order to reduce workplace risks in offices.  But, the most effective solution to this problem is to hire an experienced professional cleaning company. In this way, you can always have your work areas clean and in good condition. 
Another alternative is that you instill in your employees the importance of having order and clean office so that they can solve the problems that may arise every day. For example, if water or coffee accidentally spilled on something, I immediately dried it to prevent one of my colleagues from slipping and getting injured.
In addition, when cleaning the office, check that all spaces are properly marked. Clear all corridors or passageways to avoid collisions that could lead to accidents.
Keep in mind that the prevention of this type of accident is simple and economical. Implementing order and cleanliness in the office will help you avoid legal problems in the future and prevent your employees from getting injured.
Order and a clean office help reduce absenteeism
We relate this advantage to the previous one. If the number of accidents at work decreases in your company, it means that your employees will also be absent less. If there are no injured workers, none of the members of your work team will recover at home because of having suffered an accident at work.
A clean office helps reduce absenteeism because it improves the health of the people who are in the office. Your employees spend more time in your office than at home in most cases. For this reason, if you offer them space without bacteria or germs, you will help improve their health.
By eliminating the microorganisms that cause diseases in your office. Employees and reduce the chances that they will get sick and become infected in your facilities.
Having orders in the workplace will help you keep your inventory updated
Finally, thanks to the fact that you have assigned a corresponding place. Each of the work elements is according to its characteristics. With the frequency of use, it will be easier for you to carry out the inventory.
By having the work materials organized you will keep more rigorous and faster control of everything you have. This will let you know when an item is running low and needs to be replenished. In addition, you will avoid buying unnecessary items or those that can be damaged if we store them too long.
We hope the benefits and importance of maintaining order and cleanliness in the office have become clear to you. If you have questions or want to know about our professional cleaning services, contact us, we adjust to your needs.