Email backups are frequently required by Thunderbird users. The main reason for backing up your Thunderbird emails is to protect your important data from unneeded corruption and hard drive disasters. For example, if your computer is physically damaged, you will almost certainly be unable to access your Thunderbird data. If you have a backup of your Thunderbird emails saved on an external drive, you can easily restore them on your new machine in such cases.
How Do I Create Backup Emails from Thunderbird Account?
There are several ways to backup Mozilla Thunderbird emails to a hard drive. Because Thunderbird lacks an in-built feature for email backup, manual methods are time-consuming and complicated. Some common manual methods for backing up Thunderbird emails are as follows:
Exporting Thunderbird Emails with an Add-on
You must first install a specific add-on in order to export emails from Thunderbird (ImportExportTools).
Thunderbird Profile Backup
Thunderbird saves the data to the user's profile folder. Locate the User's profile folder, copy the contents, and paste them to a secure backup location.
Method 1: Export Thunderbird Emails Using an Add-on
As previously stated, Thunderbird does not include an export feature. As a result, you must install the ImportExportTools add-on to enable email export to external formats such as EML, HTML, Plain text, Spreadsheet, PDF, and so on. The exported files can be saved to desired backup locations on a hard drive in the future. Follow the steps below to transfer emails from the Thunderbird account.
Steps to Archive Thunderbird Emails
1. Launch Mozilla Thunderbird on your PC.
2. From the tool's interface's top-right corner, select the "Display the Thunderbird Menu" option.
3. Select Add-ons >> Add-ons from the drop-down menu. It'll open a new tab on the tool's interface.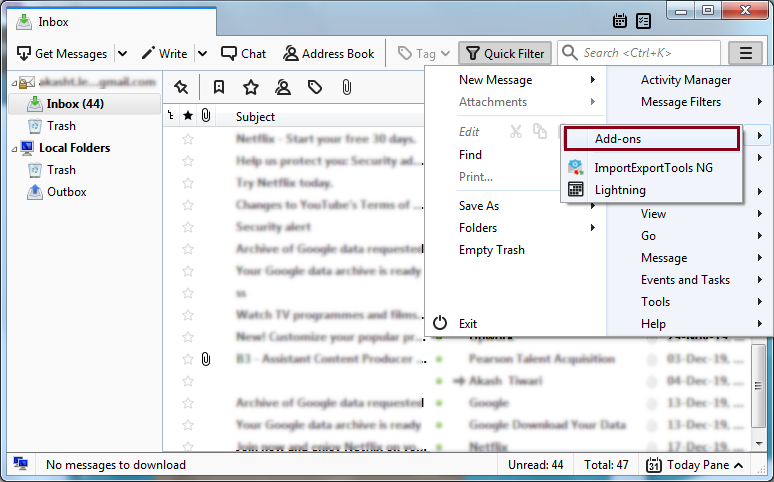 4. Click the Get Add-ons button in the Add-ons Manager box.
5. Select the ImportExportTools add-on from the list of Featured Add-ons, or click the Browse all add-ons option and search for it.
6. Click the Add to Thunderbird button.

7. Click the Install Now button when prompted.
8. Return to the Add-ons Manager window and click the Restart now option to finalise the installation now that the add-on has been successfully installed in your Thunderbird client.
Note: Close the tool and restart Thunderbird normally if it restarts in Safe Mode.
9. From the context menu of the Inbox you want to export, select ImportExportTools >> ImportExportTools. All emails in the folder should be exported as EML files.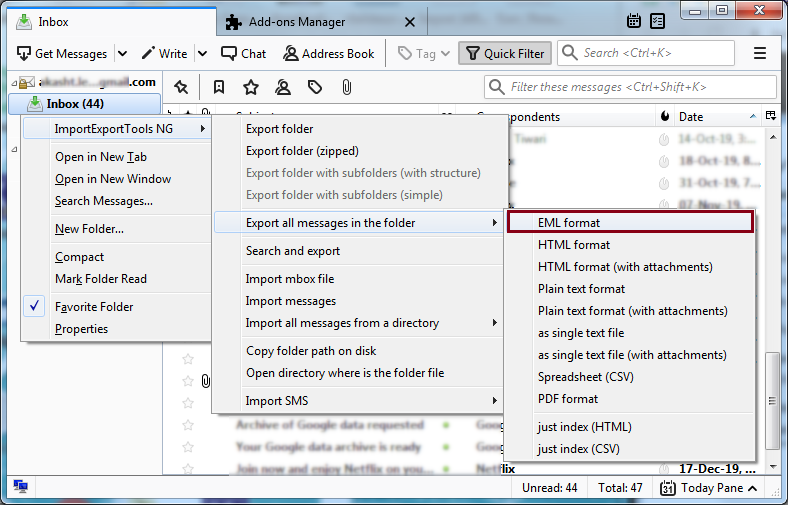 Note: Select the file type from the list based on the purpose of your email. If you want to be able to import your backup to Thunderbird on a new system, choose EML as the format. If you wish to be able to retrieve your emails in their original layout and attachments, choose HTML format (with attachments).
10. Select a folder for your backup data and then click the Select Folder button.
Your backup files will be saved to the place you specify.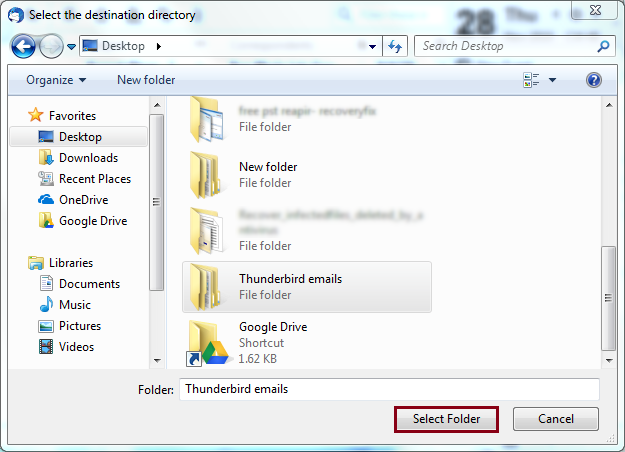 Method 2: Back up your Thunderbird profile.
Backing up your entire Thunderbird profile is another option for backing up your emails and other mailbox data. Your profile contains all of the information about your accounts, such as emails and account preferences.
Simply copy the contents of the User's Profile folder and paste them into a convenient backup place when backing up your Thunderbird profile.
1. Launch Mozilla Thunderbird.
2. Choose "Display the Thunderbird Menu" from the drop-down menu.
3. Select Help >> Troubleshooting. Within the tool, the Troubleshooting Information window will open in a new tab.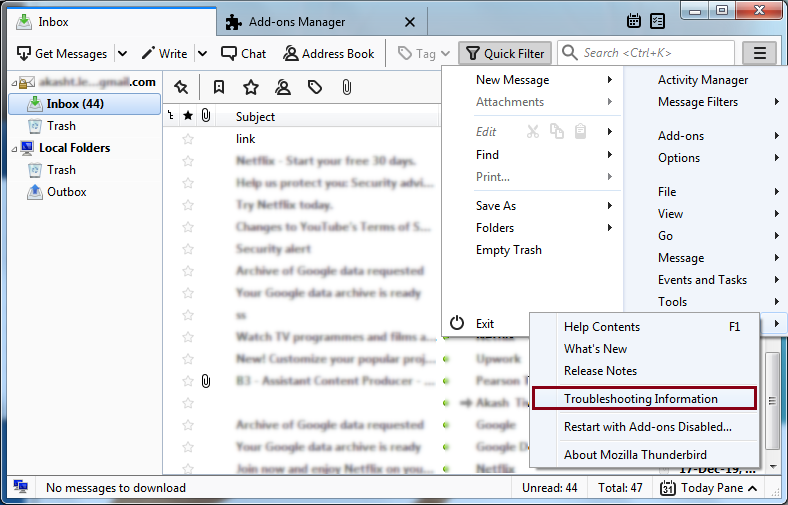 4. Click the Open folder (Local drive) button in the Applications Basics section.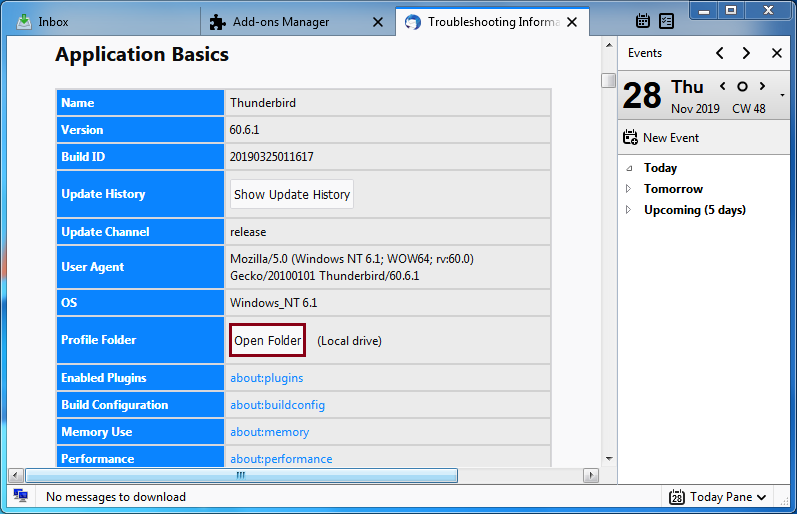 5. When you click the Open Folder button, the User's Profile directory, which has a unique name format consisting of a string of random characters followed by the profile name, will launch.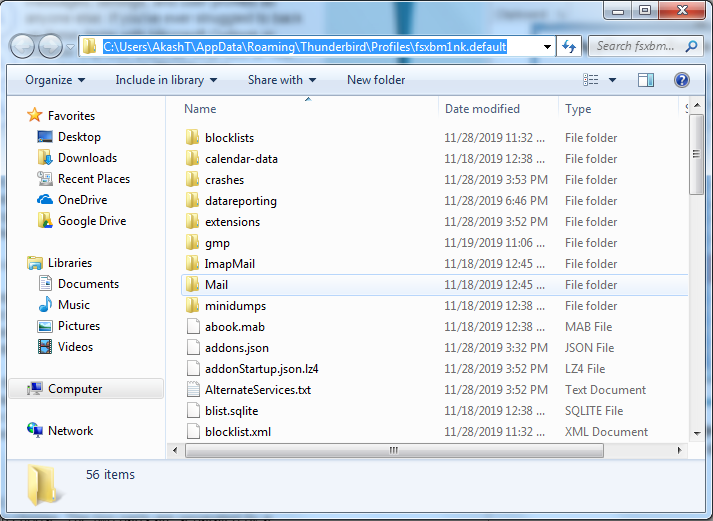 6. Simply exit this folder and move the User's Profile folder to a suitable location.
Please bear in mind that you can copy and paste the User's Profile folder to a different location. It could be an external hard drive or a spot on the system.

Backing Up Mozilla Thunderbird Emails: A Proven Method
So far, we've looked at two manual backup methods for Mozilla Thunderbird emails. However, using a professional programme to convert Thunderbird emails to EML format. As it is supported by other email client apps is the most efficient and time-saving approach. MS Outlook and Windows Live Mail are the most popular email client programmes, aside from Thunderbird. As a result, you can easily backup your Thunderbird emails and other mailbox data by using Thunderbird Converter. This tool is specially designe to save all emails from your Thunderbird account to secure your mailbox data.
Conclusion
Manually storing Thunderbird emails has significant limitations because it can only keep a limited number of emails and copy a single profile. The output file of a profile can only be open with Thunderbird, and there may be some variations in data settings. As a result, you should use the recommended tool to change the data file format for the selected profile. It gets data ready for new platforms and applications.
For More Such Article: Visit Here