Order and hygiene are fundamental concepts that speak for themselves about a good business organization with maintaining the best professional image, which is why the cleaning office or offices is an essential point in the maintenance of the facilities.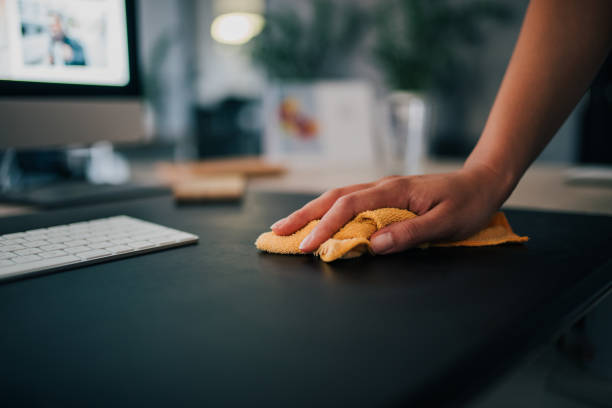 At SCS Group we have protocols for cleaning offices and offices when providing our professional services to guarantee the best quality of work and maintain impeccable spaces. 
So in this post, we help you to organize yourself to carry out the cleaning of the office or office more effectively. 
When to clean an office
Any workplace, no matter how small, needs an almost daily review to maintain a good appearance, so among the daily routines of the cleaning service.
Daily maintenance cleaning
Ventilate sufficiently to renew air quality

Empty rubbish bins and deposit waste bags in street containers.

Sweep or vacuum the floors depending on their nature.

Clean and disinfect toilets.

Organize and clean work tables, removing dust from chairs, shelves, and decorative objects.
Another essential aspect of cleaning an office, besides carrying out the usual routines, is to make a visual preview of all the elements to correct possible stains, fingerprints, or dirt in specific places, without implying a general cleaning of the surfaces.
Crystal Cleaning
Window cleaning is a key point that must be a regular task, frequently enough if you really want to get a well-cared aspect of the office, so you must maintain at least one window cleaning weekly or every ten days, and be flexible according to the weather.
For this task to be more effective in terms of results and time spent, cleaning companies assign this work to their glaziers, who are specialized personnel in handling the tools and products.
General cleaning of offices
Among the tasks that are carried out in-depth coinciding with seasonal changes or holidays, is the cleaning of carpets, upholstery, rugs, Venetian blinds, walls, and ceilings, at which time each office cleaning agency moves special machinery to the offices to execute this homework.
In addition, in order not to interrupt office activity when performing the cleaning service, and so that everything looks impeccable at the beginning of each day, it is better to set office cleaning hours at night or that do not coincide with those of employees and office visits. , in such a way that the tasks can be carried out continuously and without interruptions.
This detail is very present in the cleaning services of companies, to reduce the costs of time spent. The facilities present their best appearance every morning, besides avoiding possible interference in the confidentiality of some activities, or meetings.
Choice of office cleaning staff
The choice of personnel is a point of great importance in office cleaning, for various reasons. Do not trust anyone, because it is necessary to have personnel trained in cleaning procedures. Especially for delicate surfaces such as leather upholstery, paintings, and other valuables.
It is necessary to know how to clean computer equipment correctly. Move documentation in such a way that everything must be in its place after performing the cleaning tasks.
Confidentiality in offices is another fundamental point, which is why you must have cleaning professionals trained in data protection. With the support and guarantee provided by an office cleaning agency with a long history in the sector.
But it is also important to have the guarantees offered by office cleaning companies.  Their civil liability insurance against any mishap, and the registration of their employees against accidents.  Cleaners may suffer in performing their tasks.
To end this section, having an office and office cleaning agency provides the peace of mind. Knowing that it will not interrupt the service for any reason. Sick leave, vacations, or personal matters, because the company will always contribute to the solution.
Products and machinery for cleaning an office
Usually, simple tools and products such as dusters, dust-catching cloths, furniture cleaners, vacuum cleaners, mops, and mops are used daily
in office cleaning
, but there are other types of more specialized tools such as those used by glaziers and industrial cleaning machinery to perform special tasks.
Most times, the use of ozone can be a great advantage in achieving the best
cleaning and disinfection,
 eliminating all kinds of germs from the space, and thus avoiding possible allergies in these places where electrical installations and certain surfaces attract dust with more ease.
But there are few companies that have the equipment and human resources to carry out these
cleaning services with ozone
, so if you want to check the most effective results, we invite you to meet us.
At
SCS Group Cleaning
we are proud to have the most effective hygiene and disinfection systems that, besides protecting people's health and the image of their companies, are respectful of the environment, so if you need
a new agency to clean the office
,
request your budget
without commitment.